Today we are technically leaving the Republic of Ireland for Northern Ireland, one island, but two countries.
Ireland has a long and bloody past do to civil war and invasions. I remember as a child in school learning about "The Troubles" as the Irish call them. the seventies, eighties, and nineties were bad times in Northern Ireland, which was and is still part of the United Kingdom. Violent clashes between Protestants, mainly Northern Ireland, and Catholics, mainly Republic of Ireland, resulted in over 3,600 dead. The nexus of the strife was Londonderry, our net stop.
We were quietly driving north on N13 admiring the beautiful Irish countryside with its lush green hills and neat colorful cottages when something changed. There were no signs or markers, but we definitely crossed into another place. The differences were startling. The bright and cheery farm cottages were replaced by drab brick townhouses and instead of tidy hedge rows there were brick and chain-link fences. Gone was the charming pastoral landscape. Litter shockingly fouled the streets and graffiti marred many walls. What happened? It was as if we passed through some unseen portal to another time and place entirely.
What we unknowingly did was cross from the Republic of Ireland into Norther Ireland. Both Irelands agreed to a "soft boundary" with nothing to announce a border crossing. Despite the lack of a visible checkpoint, the division was glaringly obvious. We were amazed at the contrast.
We made for Londonderry, where we reserved a townhouse for two nights. Luckily, the home was nice, but the area around it was not. Everywhere we looked were murals depicting the civil unrest that still plagues the country. True lasting peace has remained elusive.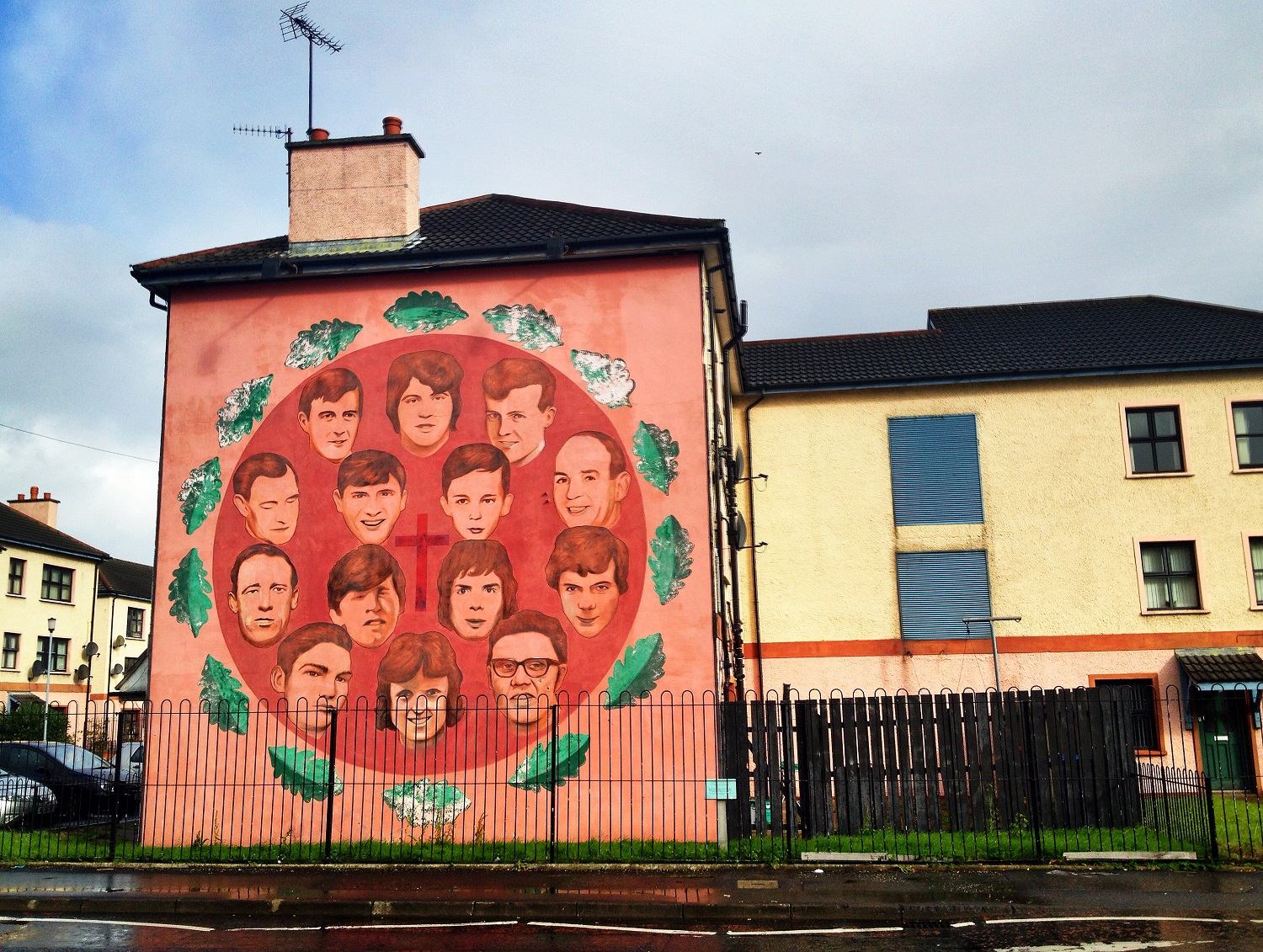 As we were sitting in the living room of the home, it dawned on me that this was the site of the Bloody Sunday Massacre! The Bloody Sunday Massacre was the single deadliest day during The Troubles. British soldiers fired on unarmed civilians during a peaceful protest killing 13 of them on January 30, 1972. The Irish rock band U-2 commemorated the incident in their hit song Sunday Bloody Sunday. I remember when the song debuted on the radio in 1983, but really didn't understand its lyrics until now. We visited the memorial to the slain and the words of the song came hauntingly back to me.
I wold like to say that our visit to Londonderry was as amazing as the rest of our trip, but it wasn't. The cold grey rain only added to the somberness of the scene. At least I was able to impart some history to Elijah. I'm glad we saw the city, but would not recommend it for a family adventure.